Reports: Maurice Creek waiting on test scores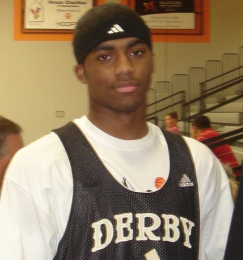 We're a little late to the game on this, but both The Indiana Daily Student and The Hoosier Scoop are reporting that Maurice Creek will not report to Bloomington for the second session of summer school.
At April's Derby Festival Classic, Creek said he planned to report to IU in time for the elite camp, which takes place this weekend.
Based on his comments to IDS reporter Jordan Cohen and to Chris Korman of the H-T/Hoosier Scoop, that won't be the case:
"My family just doesn't want me to come yet," Creek told Korman. "They want to make sure we get things straight."

When asked what needed to be set straight, Creek said, "just test-score wise." Creek took the SAT just last weekend, he said.

"I'm not really sure where I stand with all that," he said. "My parents handle all of that. But one way or another I'm going to get up there. We just have to make sure it's all set."
Four of IU's signees – Jordan Hulls, Derek Elston, Bobby Capobianco and Christian Watford — will be arriving on campus in the next couple of days. There's no word yet on when Bawa Muniru is expected to arrive in Bloomington.
Filed to: Maurice Creek