2011 class loaded with talent; scholarships could be limited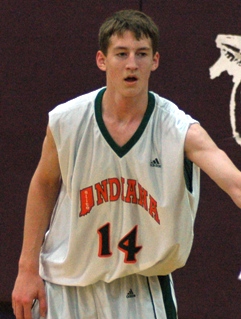 With roughly two and a half years to recruit before the early signing period in November of 2010, the fruits from the Indiana staff's recruiting efforts for the 2011 class could be plentiful. The only catch? The uncertainty of the scholarship situation. A quick look at the scholarship numbers page shows the Hoosiers have two available scholarships for 2011 (three if they oversign by one.) But if the Hoosiers add to the 2010 class, the number of available scholarships will decrease accordingly.
That said, let's take a look at the names being frequently mentioned in Indiana's 2011 recruiting efforts:
— Marquis Teague – Depending on who you talk to, Indiana's chances to land Teague range from coming on strong to a longshot. Where the Hoosiers actually stand is anybody's guess. Teague's talent is undeniable. He is an excellent ball handler and can both score and distribute from the point guard position. And he's already ready physically for the rigors of the Big Ten. His only knocks? An attitude that sometimes doesn't endear him to officials and a jumpshot that is still improving. In the end, Teague possesses the talent to be special.
— Cody Zeller – I've watched Zeller twice this spring and came away impressed after watching him in the adidas May Classic. He's a legitimate 6-9 and still growing. And as is usually the case with big men, he's tweaking his game to adjust to his changing physique. Zeller is a heady player who can be a little too unselfish at times, but his skills in the post are very good. If he can improve his strength over the next two years, he'll be a difference maker.
— Marshall Plumlee – Despite having two older brothers at Duke, Plumlee isn't a lock to head to Durham. Indiana figures to play a pivotal role in his recruitment and he told a group of reporters at the adidas May Classic that he likes Tom Crean's plan to rebuild the program. Like Zeller, he's still adjusting his near 7-foot frame to a developing game.
— Branden Dawson – If Indiana wants to make a statement about recruiting in the northwest corner of the state, Dawson should be at the top of the list. As a sophomore at Gary Lew Wallace, he averaged 16.7 points and 15.5 rebounds. There's a lot to like about his game: he's athletic, long and plays with a lot of energy. And most importantly, you can tell he genuinely enjoys playing hard and competing.
— Jeremiah Davis – The Muncie Central point guard made national waves when then-Kentucky coach Billy Gillispie offered a scholarship shortly after his freshman year. Indiana has also offered and Crean watched Davis workout last month. He's a powerful point guard that can make plays off the dribble. His decision making is a bit erratic at times, but he's got the talent to be an impact player in the Big Ten.
— Keep an eye on: Darwin Davis Jr. and Spencer Turner. Neither Bloomington South player holds an Indiana offer, but Davis is starting to garner national attention with his play this spring. Turner is an elite shooter. Austin Etherington, who missed half of last season after knee surgery, has the attention of the Indiana staff. The 6-5 Hamilton Heights wing can fill it up. Indiana Elite's Deng Leek is an athletic seven-footer who is still learning the game. But you can't teach size and Leek can run the floor, block shots and finish. Chesterton and SYF Players 6-9 forward Mitch McGary is still rounding into form after returning from a broken left wrist and hopes to attend the IU elite camp.
Filed to: Austin Etherington, Branden Dawson, Cody Zeller, Darwin Davis Jr., Deng Leek, Jeremiah Davis, Marquis Teague, Marshall Plumlee, Mitch McGary, Spencer Turner