D'Vauntes Smith-Rivera: IU atmosphere 'great'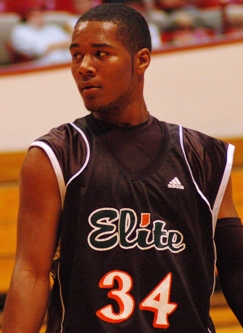 Indianapolis North Central has produced its fair share of standout guards over the last decade. Since 1999, the school has produced a trio of Mr. Basketballs: Jason Gardner (Arizona), A.J. Ratliff and of course, Eric Gordon.
And a fourth could soon be on the way in the form of 2012's D'Vauntes Smith-Rivera.
A physical guard who is regarded as one of the top prospects nationally in his class, Smith-Rivera already holds a scholarship offer from the Indiana staff. And he plans to get more familiar with Bloomington over the summer.
"I do plan to visit IU over the summer pretty often," Smith-Rivera said at the adidas May Classic. "I like it down here. I've been down a few times. I came down here and visited a few weeks ago. It was nice. I enjoyed it."
On his last visit, Smith-Rivera got a chance to see the campus and became more familiar with how Tom Crean sees him fitting in with the program.
"We watched a little bit of film," Smith-Rivera said. "We toured around the campus and everything. I saw a lot of historic things about IU and a lot of the things that they have going on. What he's doing for this school and everything, he thinks it fits my personality and I can really help out in this system."
With three years of high school remaining, Smith-Rivera plans to take his time with the recruiting process. Although he plays mostly at the two at North Central, he doesn't mind playing the one, two or even the three.
"I get in where I fit in," he said. "I try to do what the coach needs me to do. I really don't try to put myself in a category, I just do what I have to do to get the win."
Besides the offer from IU, Purdue and Tennessee have also offered and Smith-Rivera broke down the way he views the atmospheres at the three frontrunners in his recruitment.
"Purdue, their atmosphere is pretty good," he said. "IU, the atmosphere is great. I enjoy it. The crowd is into it every game. Tennessee, the chemistry is great there and everybody gets along."
Scouting report: Smith-Rivera is fantastic at getting to the basket and more importantly, getting to the line. He's good enough with the ball to play the point and also showed an ability to knock down the outside shot when left alone. Consider him one of the top priorities in Indiana's 2012 recruiting efforts.
Filed to: Adidas May Classic, D'Vauntes Smith-Rivera