High majors in pursuit of Branden Dawson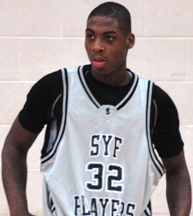 Despite reports that he is Purdue's to lose, Gary Lew Wallace rising junior Branden Dawson isn't counting out the basketball program in Bloomington.
After a breakout sophomore season in which he averaged 16.7 points, 15.5 rebounds and four assists, the 6-6 Dawson is quickly gaining the attention of several high major programs, including Indiana.
"Indiana has offered," Dawson said in Assembly Hall at the adidas May Classic. "I love Indiana. I came down here and visited once and I just love the atmosphere. They hustle, they play hard, they never give up. They just keep playing hard."
Besides IU and Purdue, Dawson holds offers from UCLA, Georgetown and Minnesota. He's also hearing from Butler, Iowa State, Xavier, Cincinnati and IUPUI.
Dawson hopes to see Bloomington again this summer and it might be in the company of his Lew Wallace teammates.
"My high school coach is trying to come down here for a team camp," Dawson said. "I want to come, so I hope we make it and come down here and have fun."
Scouting report: Dawson is long and extremely athletic which makes him a perfect candidate to be an impact player on the wing. He didn't shoot much from the outside at the adidas May Classic, but he looked good in transition and also hit the boards hard. He's already a very good prospect and with some work on his defense and ball handling, could become great.
Filed to: Adidas May Classic, Branden Dawson