Dominique Ferguson looking at seven schools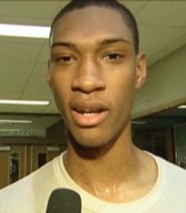 According to a video posted a couple of days ago on IndySportsNation.com, 2010 Lawrence North forward Dominique Ferguson has trimmed his list of schools to seven.
In no particular order: Indiana, Kentucky, Arizona, Texas, UCLA, Wake Forest and Florida.
Ferguson, the No. 9 player nationally on Scout.com, says he plans on having a list of five by the end of school year and hopes to make a decision either at the end of the summer or by the fall.
Notably absent from the list? Our friends in West Lafayette.
Filed to: Dominique Ferguson