Crean says 2009-2010 schedule is almost finalized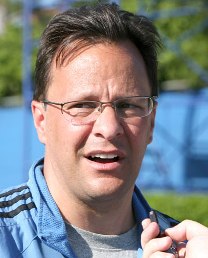 If you haven't had a chance to listen to the Tom Crean press conference from earlier today, it's certainly worth your time to do so. There was a lot of Twitter talk and he also talked at length about next year's schedule, which I've transcribed below:
We're close. We're close. We have one game to go. What we do with that remains to be seen. I can promise you that you won't be looking at the Sagarin ratings at the end of the year and see Indiana had the number one strength of schedule the entire year. That didn't do us any good. I like to have a nice schedule, but we're not trying to play the hardest schedule in the country. We've gotta get some confidence and we've gotta get our guys built up and we've gotta get it home.
We've got some very challenging games. I think Puerto Rico is going to be an excellent event. So many good teams there. Obviously Maryland, it wasn't like they matched us up with somebody that will be picked to finish last in the league like we probably will be again. We're playing against a NCAA Tournament team. A team that should be ranked in the top 20 especially if Vazquez comes back. And Kentucky is Kentucky. And it's not like he's not going to have very good players in there. So we're going to have a very hard schedule.
Not to mention the Big Ten will be even better I think next year than it was this year. And it was really good this year. Because so many players came back. You've got guys like JaJuan Johnson, E'Twaun Moore, Evan Turner and those guys coming back. All the Michigan State guys are back. The Michigan guys are back. I mean the list goes on and on. It's gonna be a great league. So We'll have a very hard schedule and we've gotta figure out what we're gonna do with the last game.
Normally, I'm not big on a cupcake schedule because it does little to prepare a team come March. But I totally agree with Crean's line of thought that he needs to build confidence and more importantly, a winning attitude with a group that hasn't won much at this level to date. As much as we'd all like to believe that the wins will be plentiful come next November, there's still going to be plenty of bumps in the road during this rebuilding process.
Filed to: Tom Crean