Crean making the most of spring contact period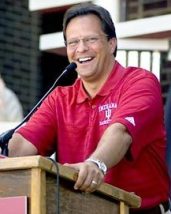 If you've had a hard time keeping up with Tom Crean's whereabouts the past couple of days, that's because he's been all over the country watching potential recruits workout.
Various reports have indicated that Crean has been to see Indianapolis Pike's Marquis Teague, Lawrence North's Dominique Ferguson, Muncie Central's Jeremiah Davis, Will Barton (Baltimore) and Ge-Lawn Guyn (Scott County, KY). And that's just a small sampling of the names that have surfaced to this point.
So you ask, what's my point? Crean 'gets it'. He realizes that the name Indiana by itself no longer sells recruits on the program. Sure, the prestige is still recognized around the country and can be leveraged in some situations. But Crean realizes that working hard around the clock is the way to bring the Indiana program back to national prominence. And he's doing just that.
The spring contact period ends today.
Filed to: Dominique Ferguson, Ge-Lawn Guyn, Jeremiah Davis, Marquis Teague, Tom Crean, Will Barton