Tom Crean tweeting on Twitter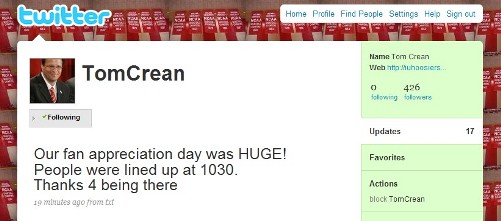 For those of you unfamiliar with Twitter, which by this point shouldn't be many of you, it's a micro-blogging service that allows users to post short updates about what they're doing. Everyone's favorite basketball coach, Tom Crean, has apparently found the platform viable enough that's he's decided to enter the fray:
BLOOMINGTON, Ind. – Coach Tom Crean wants to give you the chance to be informed with what is going on with him and the Indiana Hoosiers.

Keep yourself updated by visiting twitter.com/tomcrean.
So far, Crean has been tweeting several times per day and here's a quick sampling:
Paul davis from msu and the clippers is trying 2 find the girl of his dreams on bravo. A indiana alum would never need a show 2 get a date 9:31 PM Apr 16th from txt

The Evans Scholars house on campus busted into the IU fight song when jeremiah and matt ran past. ITS INDIANA 6:01 PM Apr 16th from txt
Two quick observations: 1) Believe it or not, I actually caught Paul Davis on Millionaire Matchmaker or whatever the show is called. Incredibly awkward dude. 2) With the enormous growth Twitter is currently experiencing, I have a feeling you'll be seeing more and more college coaches interacting with their respective fanbases, and indirectly with recruits, this way.
Shameless plug: Follow us here on Twitter.