Jeremiah Davis looking for the right fit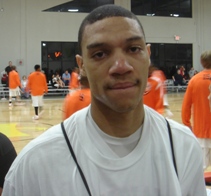 Muncie Central's Jeremiah Davis was thrust into the national spotlight when then Kentucky coach Billy Gillispie offered him a scholarship following his freshman season. With his sophomore season in the books, Davis is on the spring AAU circuit with Indiana Elite's Team Indiana and is enjoying playing alongside a talented cast.
"We've got a real talented team. My teammates are great," Davis said. "We play together. We've got a lot of heart."
The 6-3 guard averaged 13 points, 5.3 rebounds and 4.4 assists as a sophomore and has picked up offers from Indiana, Purdue, Ball State and Tennessee in addition to his UK offer. Xavier and Ohio State watched him work out last week at Muncie Central.
"I don't know about Kentucky, but hopefully once everything settles down, we'll go down there and visit the campus," he added. "Right now I'm just surveying to see what's going on. We're going to have to see what the right fit for me is."
As far as his interest in the Hoosiers, Davis likes what he's been able to see of the campus so far and says he keeps in regular contact with Tom Crean.
"I talk to Coach Crean a lot. He's a good guy. He's very energetic," Davis said. "I've been down to campus about three times already. It's really nice, I like it a lot."
Scouting report: Davis is a strong point guard that can hit the jump shot off the dribble and also get to the basket and finish. In games on Friday evening and Saturday morning, Davis showed the ability to distribute the ball and also score in bunches. He'll need to improve on defense and with his agility. He's definitely a prospect the Indiana staff will be keeping tabs on over the summer.
Filed to: Jeremiah Davis