Scouting Report: Maurice Creek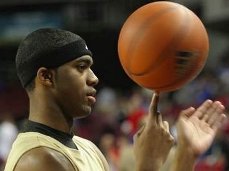 A trio of Hoosiers, Christian Watford, Jordan Hulls and Maurice Creek, participated in the Derby Festival Basketball Classic over the weekend. It was my first in-person look at Creek and the Hargrave Military Academy guard exhibited star potential.
Creek absolutely lived up to the billing that he's one of the top shooters in the 2009 class. In the 3-point shootout and in the shoot around on Thursday, he showed the capability of hitting shots from all angles. He'll play big minutes early in Bloomington for this reason alone, but he's much more than a shooter. He can also knock down the pull-up jump shot and get into the lane and finish.
He exhibited above average ball handling ability and told reporters that he's comfortable at either guard position. After the game on Saturday, he commented that he wanted to smile and have fun because some say he's often too serious. However, his business like approach at times is part of what makes him great. He's not the type of kid that is going to do much, if any, jersey popping or chest pounding.
It was hard to judge him defensively during the game on Saturday, but in Friday's 2-on-2 contest final, he more than held his own against a quick point guard in Eric Bledsoe. His length and athleticism give him the tools to become an outstanding defensive player.
The Bottom Line: It's hard to imagine a scenario in which Creek's name won't be called out in the starting lineup come the season opener next fall. He's a humble kid who seemed thrilled to be participating in the Derby Festival Classic. His answer to nearly every question he was asked started with getting teammates involved and having fun. His ability to play either guard spot will give the IU coaching staff another ball handling option along with Verdell Jones, Jeremiah Rivers and Hulls.
Filed to: Maurice Creek