Trio of Hoosiers lead Gold to 151-145 win in Derby Festival Classic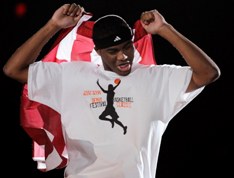 Indiana fans in Freedom Hall got a glimpse of the future Saturday night as IU signees Christian Watford, Jordan Hulls and Maurice Creek teamed up to win the Wazoo Sports Derby Festival Basketball Classic, 151-145.
"It was a great experience," Watford said afterwards. Creek, who met Watford in person for the first time on Thursday afternoon, echoed Watford's sentiments. "It was fun. I got off to a slow start at first, but then we picked it up. I enjoyed it." Creek said.
Watford led the IU trio on the Gold team with 26 points, including 8 of 10 from the free throw line. Creek added 21 points and Hulls, who is expected to be named Mr. Basketball on Sunday, had six points.
The night began with player introductions that lasted approximately 25 minutes. Creek was the first IU recruit announced and wore an Indiana flag over his shoulders as he was announced to the crowd of 13,111.
"I bought it at the mall this morning," Creek said of the flag. "My mom said I should come out and do what Dwight Howard did with the cape."
The Gold team led 70-59 at halftime and the intermission brought the completion of the 3-point shootout. Hulls won the competition with 14 points, beating Creek, Eric Murphy and Mike Marra.
"I think I had 14, but I'll give it to J. Hulls," Creek laughed. "It felt good (playing with Hulls). He's like a Steve Nash type point guard."
The next time this trio of Hoosiers will be on the court together in game action will be this fall in Assembly Hall. But in the meantime, they're looking forward to putting in the work that will bring improvement in the 2009-2010.
"It's going to take some work," Watford said. "But with Coach Crean behind us, we're going to win some games."
(Photo credit: The Hoosier Scoop)
Filed to: Christian Watford, Jordan Hulls, Kentucky Derby Festival Basketball Classic, Maurice Creek