Creek and Hulls on target in 3-point shootout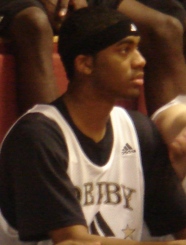 Future Indiana teammates Maurice Creek and Jordan Hulls advanced to the finals of the Wazoo Sports Derby Festival Classic 3-point shootout Friday night at Knights Hall at Bellarmine University.
In total, four players advanced to the finals of the event which will be held at halftime of Saturday's Derby Festival Classic game.
Creek led all shooters with 17 first round points while Hulls tied Louisville signee Mike Marra with 15 points.
Dunk contest: Creek and Christian Watford both participated in the preliminary round of the dunk contest, but neither advanced to Saturday's final.
2-on-2 contest: Creek and UCLA signee Brendan Lane fell 13-8 in the final to Eric Bledsoe (undecided) and Rakeem Buckles (Louisville). Hulls, who teamed with Stephan Van Treese (Louisville) and Watford, who teamed with Peyton Siva (Louisville), both fell in the first round.
Filed to: Christian Watford, Jordan Hulls, Maurice Creek