Why They'll Win It All: Connecticut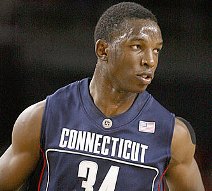 Throughout the week, we've stated our case for each of the Final Four teams to win the national championship. We conclude the series today with Connecticut.
There are reasons to like Connecticut to win it all beyond the fact that they're coming out of the West Regional, like they did during championship runs in 1999 and 2004. First, the gentleman to the right has the ability to shut down the interior. And since the only guy who figured out a way to get the best of Hasheem Thabeet this season, Pittsburgh's DeJuan Blair, is out of the tournament, I'm liking his chances to control the lane in Detroit.
But it's far from a one man show for the Huskies. With Thabeet, Stanley Robinson and Jeff Adrien,  UConn has the best front court remaining in the tournament. The season ending injury to Jerome Dyson raised some questions about this team's ability to advance deep into the tournament, but A.J. Price has taken on more of a scorer's mentality and it's working out beautifully. And it doesn't hurt that freshman Kemba Walker and Craig Austrie have filled in admirably for Dyson down the stretch.
Another factor, which hasn't been much of a factor at all, is the Yahoo! story accusing Connecticut of serious NCAA violations. Could Jim Calhoun be using a negative and turning it into a positive to motivate his troops? It sure seems like it. Often times when a coach says an off the court story won't be a distraction, it manages to find its way onto the court. But the early results look promising in this department for Calhoun. And who doesn't believe that he'd love to win his third championship and then walk away from potential sanctions?
Filed to: Connecticut Huskies