Why They'll Win It All: Michigan State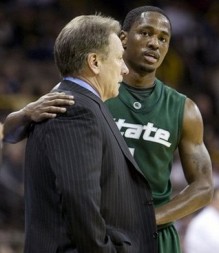 Throughout the week, we'll be running small capsules on the remaining Final Four teams, stating why they'll win it all. Today: Michigan State.
Had I told you before the tournament that Michigan State would beat the No. 1 overall seed Louisville and do it easily, you likely would have called me crazy. But that's exactly what happened last Sunday as the Big Ten regular season champs dismantled the hottest team in the country to reach Detroit.
There are several reasons to like the Spartans to win their third national championship. First, Tom Izzo gets it done in March. He's 30-10 all-time in the NCAA Tournament and the Spartans typically peak down the stretch. This year is no exception. After head scratching home losses to Northwestern and Penn State, Michigan State has won 13 of 15. There's something to be said for momentum.
Michigan State is also a balanced team. Five guys average eight points or more. If Kalin Lucas doesn't beat you, Goran Suton will. If Chris Allen isn't hitting from behind the arc, Durrell Summers or Korie Lucious will pick up the slack. It's also unlikely the Spartans will hit the wall due to fatigue. Izzo carefully distributes the minutes for a perfectly balanced rotation. Only Lucas averages over 30 minutes.
And what I like most about the Spartans is the way they crash the boards. They're grabbing 9.6 more rebounds per game than opponents. Which means they're not allowing many second chance points. That will come in handy against Connecticut with Hasheem Thabeet and Jeff Adrien, who can both control the paint. Combine a proven winner in March with a balanced rotation that pound the glass and what do you get? A national championship.
Filed to: Michigan State Spartans