Why They'll Win It All: Villanova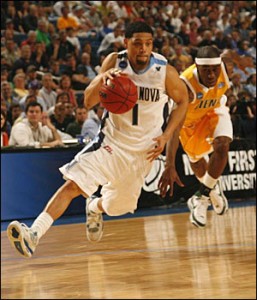 Throughout the week, we'll be running small capsules on the remaining Final Four teams, stating why they'll win it all. Next up: Villanova.
Villanova is just barely a sleeper in this Final Four, in so far as no one thought any non-No. 1 seeds would make it to the Final Four. (With the possible exception of Memphis, but that didn't go so well.) But in their run to the tournament, Villanova has showcased exactly what makes them so dangerous to teams: their complete and utter understanding of how to play fast-placed basketball.
A lot of times people associate high-tempo stuff with a willy nilly style, a style that seeks to deconstruct what most of us spent our entire childhoods learning about basketball. Get back on defense. Four passes before a shot. (Via Norman Dale.) Get good looks. Make the extra pass. But Villanova, and other teams like them, have shown that a good team can be fast-paced and pressing without abandoning any of those core concepts. With enough practice, they can have the best of both worlds.
That's what Villanova brings to the table. North Carolina wants to run. Most teams want to slow North Carolina down. But Villanova won't — it has a super capable group of guards, and its center, Dante Cunningham, is perhaps at his best when running the floor. Unlike most teams, Villanova will be able to run with UNC, and be efficient while doing so.
That's the thing about Villanova's style. It actualizes those guards, and when they're on, when they're hitting shots, Villanova can pour it on. They're the real deal, and when they're efficient, they can beat anyone in the country. That's why they'll win it all.
Filed to: Villanova Wildcats