I wasn't going to address Calipari to Kentucky, until I read this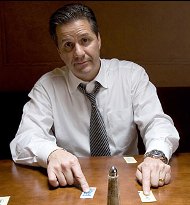 Greg Doyel is a columnist for CBS Sportsline. He is, putting it bluntly, a sensationalist. He either loves something or he absolutely loathes it. So it was no surprise when someone called the following passage in his latest piece to my attention:
College basketball as you know it? It's over. That sport doesn't exist anymore, because that sport had a semblance of parity. One year North Carolina is the dominant program. One year it's UConn. One year it's Duke or UCLA or Florida. Maybe those teams don't win the national title the year they're dominant, or maybe they do. Either way, every year there is a team that, on paper, is the dominant program in college basketball. And every year it's a different team.

Until now. Until John Calipari merges with Kentucky.
Don't get me wrong. I think Calipari will be great at Kentucky. Do I think he'll win a title? It's probably a good bet. Multiple titles? Not out of the realm of possibility, either.
What I don't believe is that college basketball as we currently know it is over because John Calipari is reportedly the new coach at UK. Maybe I missed something, but Roy Williams is still loading up at North Carolina, Rick Pitino is still in charge at Louisville, Tom Izzo is still getting to the Final Four in East Lansing and Tom Crean is just getting started in Bloomington.
Sure, it's a scary thought when you combine a top-notch recruiter like Calipari with the facilities, fanbase and tradition that exist in Lexington. If Calipari keeps his nose out of the dirt and wins big, it's a match made in heaven. The hunger to win for a rabid fanbase that hasn't been to a Final Four since 1998 will be satisfied.
But there's also the other side of the coin: awful graduation rates, a possible lack of discipline, a vacated Final Four appearance at UMass and of course, William Wesley. So before we go anointing a dynasty in Lexington, let's let this all play out … shall we, Mr. Doyel?
Filed to: Greg Doyel, John Calipari, Kentucky Wildcats