Michigan State does the Big Ten proud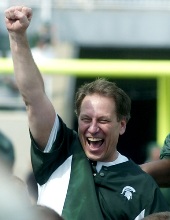 In a game that no one gave them a chance to win, Tom Izzo and the Michigan State Spartans proved on Sunday afternoon why they've been the premier program in the Big Ten since the turn of the decade.
The Spartans throttled the overall No. 1 seed Louisville, 64-52, in a contest that was essentially a home game for the Cardinals. (Louisville is just 100 miles south of Indianapolis and its fans packed Lucas Oil Stadium.) The Final Four is the fifth for Michigan State in the last 11 seasons.
Michigan State ended Louisville's 13-game winning streak and did it by rendering the Cardinals' full court pressure ineffective. Izzo's club never let Louisville turn up the pressure and committed just 12 turnovers.
As an Indiana fan, it's not often that I express admiration for what's happening at another program in the league, but credit should be given where credit is due. In a year where the national media annoited the Big East the greatest conference of all-time, Michigan State stood up and slayed its regular season and tournament champion. That, my friends, is worth our congratulations.
Filed to: Michigan State Spartans, Tom Izzo