That's a wrap: Verdell Jones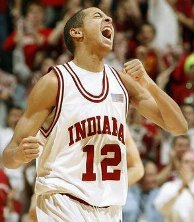 'That's a wrap' is Inside the Hall's player-by-player postseason breakdown of the 2008-2009 Indiana Hoosiers. Today: Verdell Jones.
Final statistics: 11.0 ppg; 3.1 rpg; 71 percent FT's; 45 percent FG's; 21 steals
The transformation of Verdell Jones from a player battling walk-on Daniel Moore for playing time to the lead guard for the Hoosiers was one of the top story lines of the season. The freshman from Champaign (IL) averaged 14.5 points over IU's last 11 games. Once Jones became acclimated to the physical style of the Big Ten, he used his length to get easy baskets inside and also showcased a pull-up jump shot that was unstoppable at times.
With the addition of Jeremiah Rivers and Jordan Hulls to the roster for 2009-2010, it will be interesting to see if the IU coaching staff shifts Jones to the two-guard. If he can improve his strength over the summer, the transition should be seamless and it would allow Jones to embrace the scorer's mentality he found down the stretch.
Quotable:
"This season is definitely a learning experience. But I think the most we got out of this season is if you work hard and listen to what the coaches say you can improve by leaps and bounds. That's definitely what we did this year." – Verdell Jones after IU's season ending loss to Penn State in the Big Ten Tournament.
Filed to: Verdell Jones