That's a wrap: Devan Dumes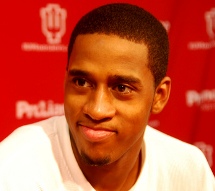 'That's a wrap' is Inside the Hall's player-by-player postseason breakdown of the 2008-2009 Indiana Hoosiers. Today: Devan Dumes.
Final statistics: 12.7 ppg; 2.9 rpg; 72 percent FT's; 41 percent FG's; 23 steals
Until the late season emergence of Verdell Jones, Dumes was the most consistent Hoosier offensively for a majority of the season. Under normal circumstances, Dumes would be the 8th or 9th man on a middle of the pack Big Ten team. But as we all know, the circumstances in Bloomington this season were far from normal and Dumes was forced into a more prominent role. His most memorable performance was a 27-point effort in IU's lone Big Ten win over Iowa.
But the storyline that garnered the most chatter on Dumes in 2008-2009 was a two-game suspension following a series of elbows thrown and ejection in the Michigan State game. After that game, Dumes, joined by Tom Crean, apologized for his actions in a press conference and missed games against Minnesota and Illinois. If Dumes is to return and become the leader of next season's team, he'll need to become more disciplined with his emotions and not let tough defense get under his skin.
Quotable: "It's been difficult, I'm really not sure there are words that can express it because it's a very tough thing to go through. But we never gave up, we always fought people and we got through it. There have been a lot of stepping stones, and we've just got to get better." – Devan Dumes after IU's loss to Penn State in the Big Ten Tournament.
(Photo Credit: Joshua Levering/WFIU)
Filed to: Devan Dumes