That's a wrap: Kyle Taber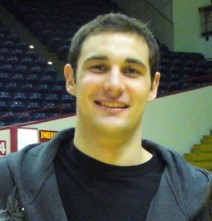 'That's a wrap' is Inside the Hall's player-by-player postseason breakdown of the 2008-2009 Indiana Hoosiers. Today: Kyle Taber.
Final statistics: 4.3 ppg; 5.2 rpg; 70 percent FT's; 51 percent FG's; 29 steals (led team)
Besides Verdell Jones, you can make the case that no other Hoosier improved more throughout the course of the season than Taber. The former walk-on was a solid contributor throughout the season and late in the year, it seemed like Taber actually belonged on the court. That's saying something for a guy who came to Bloomington with no expectation of ever seeing the floor for more than mop-up duty.
More importantly than his on-the-court contributions was the way Taber handled himself around his teammates and off the court. He was thrust into a leadership role despite not having the playing experience to merit such a title. But he handled the role admirably. When the ink dries on the history books for this season of transition, casual observers will remember all of the losses. But many IU fans will remember Taber's leadership and his improvement throughout the season. As they should.
Quotable: "I would think that they would still continually remember his improvement. The fans should see the improvement over the period of time he was here. We've seen it and we've only been here one year. That he was a huge part of laying a foundation and put everything he that had into it, responded day in and day out, change his personality on the court and continued to improve all the way down the line. And if we can look at that with him five years down the road and say, you know what, the guys in that program are doing the same thing. They are getting most out of their talent, they are getting the most out of their mindset, all those different things, then I think that would be a great place to start." – Indiana coach Tom Crean on Taber.
Filed to: Kyle Taber