Interview: Tom Coverdale on his coaching career, the 2002 NCAA run and Tom Crean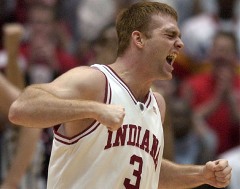 Tom Coverdale is one of our favorite guards to ever play at Indiana. He was the catalyst and South Region MVP for the 2002 NCAA National runner-up team, scored 1,217 points in 115 career games and is now an assistant coach at Louisiana Monroe. He's one of only two players in Indiana history to score 1,000 points, hit 200 3-pointers and dish out 500 assists. I caught up with the former Mr. Basketball from Noblesville and asked him about a variety of topics. A transcript of that conversation is below. Enjoy.
Inside the Hall: First things first. You first got into coaching at Louisiana Monroe, went to Chicago State for three weeks and returned to Louisiana Monroe when an assistant coaching job opened. How was the transition moving from a player to a coach and ultimately, what are your long term goals in coaching?

Tom Coverdale: I knew I wanted to stay in basketball. The toughest part for me is not being able to actually get out there and play during the games and not having hands on control during the games as much as you do as a player. My long term goal, I think just like every other young coach that gets into coaching, is to become a successful head coach at a great program and just try to get back to a Final Four.
ITH: You played for both Bob Knight and Mike Davis at Indiana. Tell us a couple of things you learned from each of those guys that you've been able to incorporate into your own career as a coach.
TC: I couldn't really pick out different things, especially only being with Coach Knight for one year, but probably the way he prepared before games and got his team ready is something that I'll always remember. In general as a player I think the thing that helped me the most is a lot of the situations players go through, I've lived through. I can relate to them and know exactly what they're feeling and thinking as they're going through it.

ITH: As a player, it always seemed that opposing fans loved to hate Tom Coverdale, but Indiana fans embraced you for your willingness to do the little things that it took to win basketball games. What do you think it was about your style of play that drew the ire of opposing fans?
TC: The way I always looked at it is if the other fans liked me, then I wasn't doing my job for my team. I think the reason they didn't like me is because I was a real emotional player and didn't really hold anything back as far as emotion and just playing as hard as I could. I think it's a combination of those two things that opposing fans didn't like.
ITH: In a couple of weeks, it will be seven years since IU's run in 2002 to the national championship game. Looking back on that run, was there one defining moment that immediately comes to mind? I know a lot of our readers still talk about the A.J. Moye block on Carlos Boozer. What was your point of view on that play and were you surprised that he was able to pull that off?
TC: No, just because I'd seen A.J. jump like that in practice all the time. So just looking back on that play, more than anything, more than how amazing it was that he was able to get it, was that we had just made a big run and that gave us the ball back and kept the momentum going in our favor even more. So that was a big turning point in the game.

ITH: You battled through two ankle injuries during that run, but you were still able to come up with several big plays that ultimately led you guys to the Final Four. How much pain were you in and was it easier to forget about as you were able to keep winning?
TC: It was definitely painful. Looking back I really wish in the Final Four I was 100 percent. As far as the pain, I think Tim Garl did a great job of getting me ready because it was definitely painful but when you get to that point in the season where you've dreamed about playing there your whole life, it really doesn't matter how much pain is there, you're definitely going to play. I feel like I gave it my best even though I wasn't 100 percent.
ITH: One concern for many Indiana fans in recent years is the talent that is migrating to other states and other schools within the state. A couple of key examples: Greg Oden and Mike Conley to Ohio State, Dominic James to Marquette, Luke Harangody to Notre Dame. As a former Mr. Basketball who played for Indiana, what was your primary reason for choosing to stay home and play at IU and do you believe the prestige still sells itself to recruits or are other factors like practice facilities and television exposure more important now?
TC: I think they're going in the right direction. I do think some of the facilities have been better than Indiana in the past because of the tradition and they didn't want to change anything but with the new practice facility and everything coming in I don't think that's going to be a problem anymore.
Really the deciding factor for me was that I grew up an Indiana fan and had watched them my whole life. So I knew as soon as they offered me a scholarship, I'd stop the whole recruiting process because I knew I wanted to go there since I was a little kid. Basically that was the decision for me. I had always went to games there and just thought about how fun it'd be to play there so when I had the opportunity, even though they wanted me to go to a prep school first, I took it without even hesitating.
ITH: After you left IU, Coach Davis came under fire for missing the NCAA Tournament for two straight seasons and ultimately decided near the end of the 2006 season that he wouldn't return. That led to the hiring of Kelvin Sampson and the phone call scandal. As a former player and IU alum, what was your reaction to what transpired in Bloomington under Sampson?
TC: I think as a former player it's really frustrating because when you're a former player a lot of people always talk to you about how the team is doing recently. I get questions like that all the time about what's going on. I think it's just more of being able to root and be proud. I think I'll always be proud of Indiana just the last couple of years it's been tough because they haven't been winning as they normally would. I think that with Coach Crean they're heading in the right direction and I think it's definitely going to be back in the next couple years to where it should be.

ITH: The Indiana program seems to be headed in the right direction with Tom Crean. He's embracing the tradition of Indiana basketball and the fanbase seems to be uniting once again. Two part question: Were you able to attend Crean's outing last summer in French Lick for former players and if so, can you tell us about the experience? And despite the tough season due to rebuilding, what's your early impression of how Crean's done and where he'll take the program?
TC: I did go to that reunion and I think that's something that was long overdue. With all of the great players that have played at Indiana, being able to go back and meet some of the guys that I grew up watching and having the same thing of people you've looked up to coming up to you just wanting to meet you I think was a good experience for all of us. And getting to reunite with some of the guys I played with, Michael Lewis and some of the guys like that, it was definitely great to go and sit down and meet and have Coach Crean open his arms to us. As former players I thought was a great way to open up and show the former players that he cared and kind of knew what it was all about.
I've gotten to watch them play two or three times this season and even though they aren't winning games you can tell that he's getting the most out of them as far as their effort. I think everybody I've talked to back home, that's the one thing they always talk about. They're not winning, but they sure are playing hard. I think that's the main staple of Indiana basketball is just giving everything you've got and playing as hard as you can. I think that's a main reason why the fans have supported them so much. They see that the effort is there every single game and Indiana fans are probably the most intelligent fans in the country as far as knowing how the game should be played. And it is being played the right way even though the results aren't there. I think that's the main thing he's gotten out of his guys this year.
Filed to: A.J. Moye, Bob Knight, Louisiana Monroe, Mike Davis, Tom Coverdale, Tom Crean