Taber talks senior night and Michigan State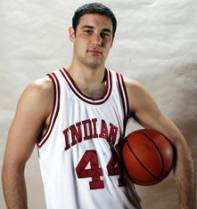 I've gotta hand it to Kyle Taber. He's had one of the toughest seasons in terms of wins and losses ever for an IU player and unlike guys like Tom Pritchard and Nick Williams who will get to see another day — this is the end of the road for Taber.
Barring a miracle, he's got three more games in an Indiana uniform. But instead of just going through the motions in a season going nowhere fast, Taber has made a point of improving as the year has moved forward. He's turned himself into a solid contributor. For that and for going through two of the most difficult seasons in the history of Indiana basketball, here's to a standing ovation for Taber tomorrow night in Assembly Hall.
Here are some thoughts from Taber as he prepares to play his final home game:
On Tuesday night being Senior Night:
"It's going to be special, sad and exciting at the same time. I'm ready for it though. It's my fifth year here so I knew it was coming sooner or later."
On which teammate he learned the most from:
"I learned a lot from D.J. (White). Just how he handles things especially with how big of a star he was around here. He did a lot of good things and you can learn a lot from just watching him and not even talking to him. So that was probably the biggest, but I have learned a lot from everyone that I have been around, all of my teammates."
On the chance to become a freshman all over again:
"It would be fun to be a freshman again and come in with this group of guys. They are fun guys and it would be a great four years to play ball with them."
On his plans after graduation:
"Try and finish up my masters in Sport Communication and maybe some college coaching – maybe get an assistant job somewhere while I finish it up."
On the keys for success Tuesday night against Michigan State:
"Control the middle part of the game, control the fast breaks and get rebounds at the end of the shot clock and then we are going to try and shut down their plays in the middle because they are really methodical. If we can stop those and make the player feed you, we will have a much better chance."
There you have it, boys and girls. More proof of the awesomeness of D.J. White and the first inkling that you may see Taber on the sidelines in a gym near you.
Filed to: Kyle Taber