'This was bound to happen at some point'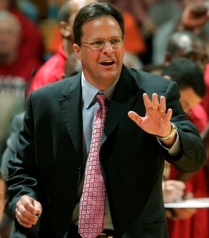 Notes written shortly after Michael Santa's much anticipated IU debut …

"I'll never accept it and I never have, but this was bound to happen at some point with this team. We've asked a lot of them. A majority of theses guys would be redshirting on most any Division I program. I shouldn't say most, but the high quality level to get that year to get their bodies right, to get stronger and all those kinds of things, to learn the college game. We are asking a lot of guys that have never done this before and it showed up tonight in a big way. There is nothing to hang our hat on tonight. It is just part of it." – Tom Crean after Indiana's 75-53 home loss on Wednesday to Northwestern.
No matter how much we'd all like to sugar coat it and talk about the hard work this version of the Indiana Hoosiers is putting in, the reality is that this team never really had a shot to compete at a high level. Crean and the coaching staff have coached them to competitiveness in spurts, but the talent and experience just isn't there. Crean has done a superb job keeping the attitude and the spirit of his team positive, but there's only so much you can say when the losses keep piling up. Take this season for what it is: an anomaly in the history of the Indiana basketball and no indication of the direction the program is heading.
— Ryan did an excellent job of summing up the extra phone call the Indianapolis Star reported early Wednesday morning. Under normal circumstances, this would have flown so far under the radar you wouldn't have even known about it. But the circumstances following Kelvin Sampson's major violations aren't normal. You can believe Crean when he says it was an honest mistake, but it was the last thing Indiana needs right now.
— The Kentucky Derby Festival Basketball Classic will take place on April 11 in Freedom Hall in Louisville and event organizers told me on Wednesday they expect three or four of the Indiana signees to participate. Maurice Creek told me earlier in the week that he will take part in the game. Rosters are expected to be finalized sometime in March. On April 10, Bellarmine University will host the Night of the Future Stars which will feature a 2-on-2 contest, a 3-point shootout and a slam dunk contest. Tickets for the game are $10 and $15, which includes admission to the Night of the Future Stars, and can be purchased at the Freedom Hall box office or through Ticketmaster.
— Crean said on the Big Ten Network last night in an interview with Mike Hall that he was planning to head south to watch a high school game Thursday and my guess is that it's New Albany at Jasper. The Bulldogs are unbeaten, No. 2 in Class 4-A and appear to be the most legitimate roadblock between Bloomington South and Conseco Fieldhouse. They also feature 6-8 junior Donnie Hale who holds offers from Purdue and Xavier and is starting to pick up interest from IU. Assistant coach Tim Buckley reportedly made a trip recently to New Albany to watch Hale. With the Hoosiers presumably looking to fill two slots in the 2010 class, Hale could become a strong possibility.
— Speaking of Bloomington South, it was nice to see Darwin Davis Jr. and Spencer Turner seated directly behind the bench during the Northwestern game. After watching South play a couple of times this season, both of these guys warrant serious Division I attention. The staff at South is second to none in the state and is largely responsible for consistently developing players that play the game the right way.
— For those of you that use Twitter, you can now follow Inside the Hall right here.
Filed to: Darwin Davis Jr., Donnie Hale, Kentucky Derby Festival Basketball Classic, Maurice Creek, Spencer Turner, Tom Crean