Tom Crean is no fan of you, Big Ten schedule-maker guy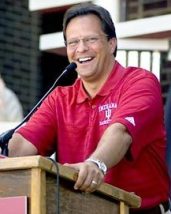 In case you haven't checked the schedule, IU has just about 24 hours until it's next game — a big one in West Lafayette. And I'm not the only one who thinks the bizarre timing of the game needs to be addressed in the years ahead. Tom Crean is right there with me:
"I hope moving forward after this year it's not a situation where we've got under 40 hours to prepare for a game. I get it now, I get it for television, but I think some concrete thought has really gotta be put into not allowing this to happen. Wisconsin's gotta turn around and play. They're playing on Sunday. I would have loved to see us be playing Purdue on Sunday. I'm not complaining about now as much as I really hope this doesn't happen in the future. And not just because of where we're at and where they're at. Every game is big. Every game to every coach is the biggest game of the year, but there are certain games in all leagues that transcend anything. And I think Indiana-Purdue is one of those games just like I said the other day that Michigan State-Michigan is one of those games. And there's probably others and I'm gonna learn pretty quick that there's probably others. I would like to see both teams have the same kind of time to get ready for those games."
Two quick observations: 1) The fact that IU is turning around in less than 40 hours to play any regular season game is ridiculous. Sure, it's acceptable in March, but in the regular season, not so much. Especially when the Hoosiers had a break of more than a week earlier in the Big Ten schedule. 2) IU and Purdue need to play twice every season. It shouldn't even be up for debate. Could you imagine the outrage if the ACC schedule came out and Duke and North Carolina only had one meeting? ESPN would probably run a 30-minute special denouncing it as the biggest travesty in sports. So note to you, Big Ten schedule-maker guy: IU-Purdue twice a season and little preparation time would be nice.
Filed to: Purdue Boilermakers, Tom Crean