And now, an attempt at answering your Bawa Muniru inquiries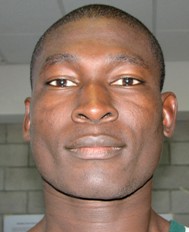 Believe it or not, we actually get some emails here at ITH from time to time. Normally, they fall into two categories: 1) Here is a link to an article I would post if I was an editor. I think you should post it. NOW! 2) Can you please break down said player and give me some more information like his stats and whether or not he'll play right away when he gets to Bloomington. Also, a link to his Facebook page would be good, too.
This afternoon, I'm going to address número dos. The subject: Bawa Muniru. Here is a sampling of the questions you've submitted, either via email or by your comments followed by my responses.
What is the deal with Bawa? I have not seen any video or stats.
The deal with Bawa is that he's a 7-footer with tremendous upside, but at this point, he's extremely limited offensively. He's not Tijan Jobe limited, but he's got some work to do and with the help of Roshown McLeod, I'd expect him to improve immensely in that aspect of his game. As far as video goes, this clip, which basically shows him throwing down a couple of thunderous dunks is all I've been able to scrounge up. The reason his stats haven't been reported is that very few, if any, newspapers cover Mt. Zion Academy's basketball team and the school's Web site doesn't report stats.
Are we excited about this guy?
There's a lot to like about Bawa other than the fact that he's fluent in six languages. Right off the top, he's seven feet tall or pretty darn close to it. IU desperately needs interior size and rebounding. As we've seen, Tom Pritchard can't go it alone, especially in the Big Ten. Muniru has made strides on the defensive end and is more than capable of blocking shots and contributing on the glass. I don't necessarily see him morphing into Hasheem Thabeet down the road, but with the right work ethic and a willingness to be coached up, he should be a solid addition to the IU program. And speaking of work ethic and attitude, all reports are that he's a great kid, so there shouldn't be any problems.
Any chance he won't end up at IU?
I've heard those whispers, but nothing concrete enough to report to this point. Most of the chatter seems to revolve around Muniru's transcript and whether or not he'll be cleared to play next fall. Presumably the reason Muniru decided on Mt. Zion (a prepatory academy) was to get the necessary work done in the classroom to get eligible, but I haven't heard confirmation that he's reached that goal.
Can you guys put together a piece on Bawa?
I think we just did.
Filed to: Bawa Muniru