Losing streak halted: Hoosiers drop Hawkeyes, 68-60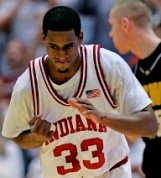 The 11-game losing streak is over.
In a game that looked eerily similar to earlier contests the Hoosiers haven't been able to close out down the stretch, Tom Crean's club reversed the trend and fended off Iowa 68-60 in front of 14,247 fans in Assembly Hall. The win was the first since December 10 for the Hoosiers.
"It was a great win for us," Indiana coach Tom Crean said. "As I said to the players late in the game and I said in the locker room, this will be the toughest win that they ever get. And it wasn't just because it was game night, it was because we haven't won in a while and I'm really proud of them."
Indiana (6-15, 1-8 Big Ten) led by 13 at halftime and enjoyed a 20-point lead with 11:58 remaining. The Hoosiers, however, saw the gap close to 63-60 with 44 seconds remaining on a Jeff Peterson layup.
Crean then called for a timeout and Iowa fouled Verdell Jones, who hit 1 of 2 free throws to make it 64-60. IU forced turnovers on Iowa's final two possessions on steals by Devan Dumes and Nick Williams. A layup by Malik Story and a pair of free throws by Dumes sealed the victory.
Dumes matched with a career-high with 27 points on 8 of 9 shooting from the field and 6 of 8 from the foul line. The junior guard added four rebounds, two assists and two steals.
"Devan Dumes was phenomenal," Crean said. "He did excellent things for us."
Williams was the only other Hoosier in double figures with 14 points. Tom Pritchard scored only two points and fouled out in just 14 minutes.
Iowa, which played without leading rebounder Cyrus Tate, was paced by Matt Gatens' 22 points. The Hawkeyes (12-11, 2-8) shot just 30 percent from 3-point range (6 of 20) and 14 of 21 from the foul line.
Up next: Indiana travels to the Breslin Center in East Lansing on Saturday for a 4PM ET tilt with Michigan State. The game will be broadcast on ESPN.
Leaving points at the line: Indiana shot just 15 of 25 from the foul line.
Roth cools off: After a 29-point performance against Ohio State on Saturday, Matt Roth hit just 1 of 6 three-point attempts and finished with five points. "Matt Roth got a new feel of what it's like to be a marked man," Crean said. "They did an excellent job and at the same time, he still moved pretty well without the basketball."
(Photo credit: Associated Press)
Filed to: Devan Dumes, Iowa Hawkeyes, Nick Williams, Tom Crean, Tom Pritchard