Donnie Hale drawing interest from Hoosiers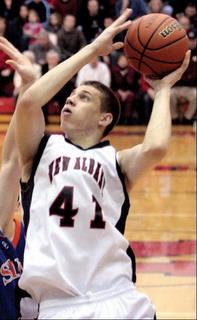 Arguably the best player in the 2010 class from Southern Indiana and a good bet for a double-double nearly every time out, New Albany's Donnie Hale is on the radar for the IU coaching staff.
The 6-8 Hale was one of several prospects in attendance for last Sunday's game with Minnesota and came away impressed despite the Hoosier loss.
"They're always working hard and Tom Crean's a great coach," Hale told Inside the Hall. "He'll get their program turned around."
Although the Hoosiers haven't offered a scholarship, the coaching staff has been in contact with Hale and his high school coach, Jim Shannon.
"They send letters in the mail and they talk to my coach," Hale said of the IU staff.
Besides Indiana, Hale is hearing from Purdue and Xavier, who have both offered scholarships and is also getting looks from Virginia, Kentucky and Penn State.
After losing Indiana All-Star Braydon Hobbs to graduation, New Albany hasn't missed a beat and is off to a 12-0 start and a No. 2 ranking in Class 4-A. Hale, the MVP of the Hall of Fame Classic last season as a sophomore, is a big part of the success.
"Donnie's inside presence has given us a good one-two punch so far," Shannon said recently. "He's playing better than he's ever played."
Filed to: Donnie Hale