Carlino putting up big numbers for No. 1 Highland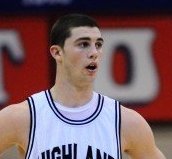 Throughout the season, Inside the Hall will keep you posted on how the six Indiana signees and 2011 commitment Matt Carlino are performing at their respective schools. Here's our latest update.
+ Matt Carlino: The No. 17 player in the 2011 class, according to ESPN, scored 16 points in a 72-58 Highland win over Dobson on Tuesday and 31 points in a 73-68 win over Cesar Chavez on Friday. Highland is 8-0 and No. 1 in the power rankings on azcentral.com.
+ Christian Watford: Watford poured in 36 points and 15 rebounds in 65-56 win over Huffman on Friday and then had 20 points and nine rebounds in 45-43 win over Erwin on Saturday. Shades Valley is 16-3.
+ Jordan Hulls: Hulls scored seven points in 74-55 victory on Friday over rival Bloomington North. Earlier in the week, he scored 26, including six straight 3-pointers, in a 99-52 rout of Center Grove. Bloomington South is 9-0 and No. 11 in the USA Today Super 25 Poll.
+ Bobby Capobianco: The 6-9 Capobianco had 22 points, seven rebounds and three blocks in a 77-61 Loveland win over Winton Woods on Friday.
+ Maurice Creek: Hargrave moved to 13-1 with a 96-77 win over Averett on Friday. No individual numbers for Creek were available.
+ Derek Elston: Elston and the Tipton Blue Devils, now No. 2 in Class 2-A, bounced back from a loss in the Hall of Fame Classic with a 50-40 win over West Lafayette. Elston scored 15 points and grabbed 12 rebounds.
+ Bawa Muniru: No individual stats are available; Mt. Zion Academy is 12-4.
Filed to: Bawa Muniru, Bobby Capobianco, Christian Watford, Derek Elston, Jordan Hulls, Matt Carlino, Maurice Creek