Bassett enrolls at Ohio University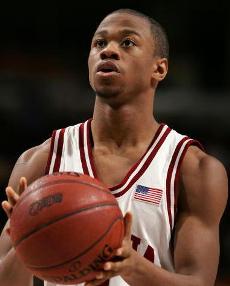 Armon Bassett, the subject of an excellent piece written by Chris Korman in yesterday's Herald-Times, has enrolled at Ohio University.
Here's an excerpt from the press release:
Ohio University head men's basketball coach John Groce announced on Friday that guard Armon Bassett has enrolled at the University for the winter quarter and will begin competing for the Bobcats at the conclusion of the 2009 fall quarter.

"We're extremely excited to welcome Armon Bassett into the Ohio basketball family," Groce said. "I've been close with Armon and his family for a number of years, and I'm confident that he'll be a great addition to the program, both on and off the court. This is an exciting day for Armon and Ohio basketball, and we all look forward to helping him reach his goals over the next few years."
I'm glad Bassett is getting a chance at another DI school, but from what I understand, one of Bassett's reasons for leaving UAB was to be closer to home due to a personal issue. Maybe I'm looking at a different map, but Athens, Ohio is 328 miles from Terre Haute. Something tells me there's more to the story, but we'll probably never hear it.
+ Connect to Inside the Hall with Facebook: Inside the Hall readers can now login and post comments using their Facebook account. Just click the Facebook Connect link under the comment box to get started.
Filed to: Armon Bassett, Ohio University