Creek enjoys giving back at youth camp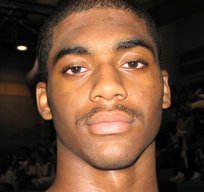 While most teenagers and young adults were gearing up for the ball to drop Wednesday afternoon, Hargrave Military Academy guard and Indiana signee Maurice Creek was focused on instructing kids at a local youth basketball camp.
"It feels really good to give back to little kids because I was there at one time," Creek told Inside the Hall. "I feel really good about what I'm doing and I'm glad to be helping out."
Above all of the basketball instruction he shared at the camp, Creek says he wanted the kids to understand that success ultimately comes from one thing: hard work.
"I told the kids that people that work hard always win. If you work hard, you can be a great and talented player," he said. "But you have to put the hard work and dedication into it. You can't just sit on the couch and watch TV, you've gotta put work in all of the time. Hard work beats talent."
The hard work and dedication Creek spoke about is a big reason he's one of the top players nationally in the Class of 2009 and is expected to make an immediate impact for the Hoosiers. But with the transition to college still months away, Creek is focused on the task at hand at Hargrave Military Academy on the court and in the classroom.
"Hargrave has been great. Everybody on the team is great, they're good people and they know how to win games. It's real different waking up at six o'clock in the morning by a bell, but it's helped me a lot getting up in the morning getting my class work done and study hall. It's really nothing but books and basketball out there. There's no distractions. It's a great situation for me."
Photo credit: Jody Demling
Filed to: Maurice Creek