Scouting Report: Aaron Cosby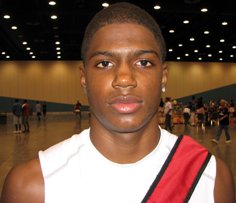 Inside the Hall got its first look of the season at 2010 guard Aaron Cosby from Jeffersontown Monday night at the Gaslight Holiday Classic. Cosby scored nine points as J'Town beat Owensboro 72-55 to move into the final against Mount Lebanon, PA on Tuesday night.
Strengths: Cosby is a part of one of the top teams in the state of Kentucky that is led by one of the better coaches in the state — Jeff Morrow. After sitting out the six first games of the season due to transfer rules, Cosby is still working his way into game shape. He showed an ability to get into the lane and also a nice touch from the perimeter when left open. For the most part, his court vision appeared to be solid and he didn't try to make plays that weren't available to him.
Weaknesses: It's not a knock on Cosby, but his listed height of 6-3 by Rivals is a bit deceiving (go figure). He looked to be about 6-1. He also looked to be a bit out of the flow of the game, but that seemed to be more of a result of missing the first six games of the season and not his ability. Morrow wasn't pleased with a couple of layups he gave up and as a result, Cosby found himself benched for a couple of long stretches in the second and fourth quarters. He has the tools to be a solid defender, but will need to step up the intensity on a more consistent basis.
The Bottom Line: The Indiana staff will keep a close eye on Cosby's progress over the course of the season. As he continues to round back into form after sitting out last season and the first six games of this season, he should become more comfortable with his new surroundings and continue to blossom. He's an intelligent player that has the potential to become a solid college player.
Filed to: Aaron Cosby