Know Thy Opponent: Northeastern Huskies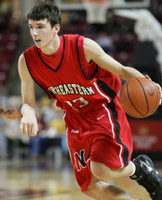 Indiana will take the floor Monday evening for the first time since a 72-54 loss at Kentucky on December 13 for a meeting with the Northeastern Huskies.
Northeastern (5-4) was selected to finish second in the Colonial Athletic Association and returns all five starters from a team that went 14-17 a season ago.
"They are impressive on film with their athleticism and their ability to play inside-outside," Indiana coach Tom Crean told reporters at his weekly press conference. "They are well-schooled and well-traveled in that they played a lot of different types of basketball teams this year. They have beaten a Big East team in Providence, and it will be a very good test."
The Hoosier backcourt will have its hands full with senior Matt Janning (pictured), a preseason All-CAA first team selection. The 6-6 Janning is averaging 16.2 ppg.
Joining Janning in the backcourt is sophomore guard Chaisson Allen, who made the CAA All-Rookie team last season and is averaging 10.2 ppg and 3.6 apg. More importantly, Allen is the point man for a club that is averaging just 12 turnovers per game.
Although Janning and Allen are the two leading scorers, the Huskies have four players 6-8 or taller playing significant roles: 6-8 junior Manny Adako (9.8 ppg), 6-9 junior Nkem Ojougbah (8.2 ppg and 4.7 rpg), 6-8 senior Eugene Spates (8.0 ppg and 3.8 rpg) and 6-10 Vinny Lima (3.9 ppg).
"They have good size inside and they know how to utilize it," Crean said. "They are a pretty athletic team. We watched some of the games from early in the season and you see that."
Despite the size advantage Northeastern holds, it's important to note that they're being out-rebounded by roughly 3.5 rebounds per game. Despite the size advantage, there's an opportunity for the Hoosiers to stay competitive in that facet of the game.
Notes:
+ Northeastern dropped it's only game to-date with a Big Ten opponent, 76-56 to Michigan, back on November 12.
+ In the last meeting between the two schools, Indiana crushed Northeastern 103-65 at Conseco Fieldhouse. Andre Owens led IU with 20 points and Jared Jeffries added 12. The only other meeting between the two schools was in 1990 at the Maui Classic.
+ Indiana's last CAA opponent was UNC-Wilmington back on November 20 of last season. IU won 95-71.
+ There should be no limitations on Verdell Jones as he had a full week of practice.
(Photo Credit: GoNU.com)
Filed to: Northeastern Huskies