So, about DeMarcus Cousins, Jeff Withey and the scholarship situation…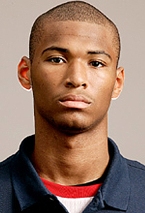 Believe it or not, from time to time, some of you email and ask us to address something in this very space. And that's exactly what I'm going to do with an email I got early this evening from John, who asked about the possibility of Jeff Withey or DeMarcus Cousins (pictured) coming to IU and the scholarship situation beyond this year.
Let's start with Withey and Cousins. Withey, a 7-0 freshman at Arizona, announced his intentions to transfer shortly after Lute Olsen's resignation. Arizona initially refused the request, but granted permission last Tuesday. Shortly after being given his release, the San Diego native named a list of eight schools he would consider and IU was among the possibilities.
Cousins is the No. 2 player in the 2009 class and originally committed to UAB. (Cousins transferred this season to LeFlore, the same school that produced current Indiana guard Nick Williams.) After UAB refused to guarantee him a release if Mike Davis is removed as coach, Cousins decided to open his recruitment back up. According to a recent statement by LeFlore coach Otis Hughley, IU is one of many schools to inquire about Cousins.
Obviously, Tom Crean would be doing himself an injustice if he didn't pursue a player like Withey or Cousins. It's impossible to predict the decision of an 18 or 19 year-old kid, but it would seem unlikely that either kid will come to IU and it's not because Indiana is over-signed by one already for the 2009 class. If a high caliber player wants to come to your program, you figure out a way to get it done. In Withey's case, there are seven other schools he'll consider and to my knowledge, he's never been on campus in Bloomington.
In the case of Cousins, two things stand out. There is still a possibility he'll end up at UAB if Mike Davis remains the coach beyond this season. If Cousins opts to go somewhere besides Birmingham, the school to beat is Memphis and John Calipari with no shortage of schools jockeying for position right behind the Tigers. If you haven't noticed, beating out Memphis for a recruit is no small feat.
Onto the scholarship situation … This seems to be a hot topic. Yes, Indiana has already exceeded its allotted scholarship limit for next season. This leads to the following question being asked frequently (in several different wording variations) on just about every IU related Web site: With IU already at 14 scholarship players for next season, does that mean someone will have to leave and who is leaving?
The answers: Yes, someone will likely leave the program and nobody knows who. Anyone who says they know who is leaving at this point is speculating. And while the season is playing out, it's not fair to throw out names of guys that might look elsewhere. But if you look at the incoming class and the depth at a couple of positions, it's fairly easy to see who could be on the short end of the stick when it comes to PT.
Filed to: DeMarcus Cousins, Jeff Withey