Know Thy Opponent: Kentucky Wildcats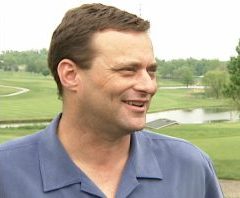 John Clay is a columnist for the Lexington Herald Leader and is the author of Sidelines. He covered Kentucky football for 13 seasons before being promoted to columnist in 2000. We recently caught up with him for a Kentucky edition of Know Thy Opponent.
Inside the Hall: It's year two of the Billy Gillispie era in Lexington. What has Gillispie done well since arriving at UK and what can he improve upon moving forward?
John Clay: Since arriving here, Gillispie has given the impression that he's going for it. He's not holding back. He's recruiting eighth graders. He's hiring assistants (Tracy Webster) who will bring him recruits (Darius Miller). He's taking advantage of an NCAA loophole to move Midnight Madness to a week before official practice begins. He's paying Daniel Orton's father, within the rules, in hopes of getting that recruit (he did). The one thing that has undercut the confidence fans have in him is the unexpected losses – to Gardner-Webb last year, to VMI this year. Kentucky is not supposed to lose to those teams.
ITH: One of the problems so far for Kentucky this season seems to be an inability to get the ball inside to Patrick Patterson. Is this problem a result of teams focusing on stopping Patterson or Kentucky's lack of leadership in the backcourt?
JC: I'd say more lack of leadership, and ball-handling skills, more than anything else. This team has a definite point guard problem. Starter Michael Porter can't avoid turning the ball over. Asking him to run the offense is a stretch of his skills. DeAndre Liggins, while hardly smooth, has played better, but with his trademark stubbornness, Gillispie has yet to put the freshman in the starting lineup. Even beyond point guard, this is not a team of handlers. The smalls turn it over. The bigs turn it over.
ITH: Another big storyline early in the season is the DeAndre Liggins saga out in Las Vegas. Was this an isolated incident or do questions still linger about the relationship between the freshman guard and Gillispie?
JC: So far, anyway, Gillispie seems to be one of those I'm-going-to-do-it-my-way coaches. When Liggins refused to enter the second half of the Kansas State game in Vegas, most felt the freshman would (a) leave, (b) be booted from the team, or (c) be glued to the bench. Instead, he played 27 minutes the next night against West Virginia. Liggins has played well enough since then to deserve a promotion to the starting lineup, but that hasn't come. Perhaps it's a punishment for the Las Vegas incident. I don't think there's any real friction between Liggins and Gillispie. I don't expect him to leave.
ITH: Besides Patterson or Jodie Meeks, who is the player most important to the success of UK and why?
JC: That's a tough one. Obviously, the point guard role needs to be resolved and the turnover problem fixed. But freshman Darius Miller needs to step up and provide a third scoring option behind Meeks and Patterson. Miller has excellent ability. He's shown poise, is a good passer, and can take the ball to the basket. But he's been way too timid for Gillispie's taste thus far. In the last game, against Mississippi Valley, Gillispie called for Miller to go into the game, but when the freshman passed the head coach on his way to the scorer's table, Billy G. called him back and sent him to the end of the bench. It's a Billy G. trick from last year. If the player doesn't show the proper enthusiasm for going in the game, he doesn't go in the game.
ITH: With both programs being somewhat down recently, has the UK-IU rivalry lost any of its luster? Or is it still a game that the fans in Lexington circle on their calender each year?
JC: I don't think the fans circle it like they once did. It would help if both program were at a high level at the same time. That hasn't been the case in recent years. Plus, when UK dominated the SEC, games against Louisville and Indiana gained importance. But with Florida winning titles, and Tennessee on the rise, the Cats have their hands full inside the league.
ITH: Finish this sentence: By season's end, Kentucky will be a team that…
JC: . . . plays hard, plays good defense, and plays just well enough to lose to the better teams on its schedule.
Filed to: John Clay, Kentucky Wildcats