Know Thy Opponent: Texas Christian Horned Frogs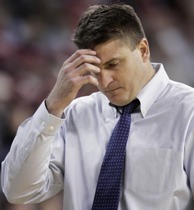 One of the better young coaches in America – Jim Christian – brings his Texas Christian team to Assembly Hall Wednesday night.
The Horned Frogs (7-3) are seeking their seventh straight win and will play in Bloomington for the first time since December 12, 1950.
After six successful seasons at Kent State, Christian made the head-scratching decision to accept the job at TCU.
Not only is it hard to imagine a coach using TCU as a spring board to a better job, it can certainly be argued that Kent State is a better gig given their recent NCAA success. But so it goes in college basketball. Money talks and that's why he made the move.
Christian, who served alongside Tom Crean as an assistant at Western Kentucky in the early 90's, has his club defending well and they could present the stiffest home test to date for IU. During their current winning streak, opponents are shooting just 39 percent from the field and 20 percent from 3-point land against TCU.
The focal point on offense is senior forward Kevin Langford, who is averaging 13.8 points and should become the 29th player in school history to reach 1,000 points this season.
Two other Horned Frogs are scoring in double figures — Lithuanian forward Edvinas Ruzgas (11.6) and Croatian center Zvonko Buljan (10.5). Jason Ebie is the primary ballhandler and averages 4.7 assists, but has struggled from the field (35 percent).
As will be the case with just about every opponent on this season's schedule, Indiana's margin for error is slim. Keeping Langford in check on the low block and establishing Tom Pritchard early will be essential to putting win number five in the books.
Filed to: Jim Christian, Texas Christian Horned Frogs