Know Thy Opponent: Wake Forest Demon Deacons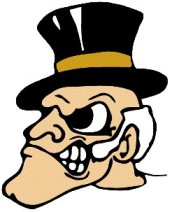 Each year in college basketball, there is a group of young teams flying somewhat under the radar yet capable of a deep run in the tournament.
In 2006, a team in the aforementioned group was Billy Donovan's Florida Gators. They were a fringe top-25 team coming into that season, refined their ridiculous pool of talent during SEC play and ended up cutting down the nets.
To call this year's Wake Forest Demon Deacons a threat to win it all would be a bit premature at this point in the season, but the talent is certainly there for a serious run.
Led by another Indiana kid who got away in sophomore Jeff Teague from Indianapolis Pike and a pair of do-it-all forwards in sophomore James Johnson and freshman Al-Farouq Aminu, the Hoosiers are going to have their hands full Wednesday night in the ACC-Big Ten Challenge.
Teague has opened the season on fire — 21.0 ppg in six Wake wins — while shooting a ridiculous 57 percent from 3-point range.
Johnson (15.0 ppg, 9.2 rpg) and Aminu (13.2 ppg, 9.5 rpg) are perhaps the most athletic front court duo anywhere in the country. They've been so good early on that head coach Dino Gaudio has two five-star freshmen in Tony Walker and Ty Woods that have yet to see major clock.
The result of this mismatch will not likely be pretty for our Hoosiers, but fans of good basketball will enjoy watching one of the up-and-coming teams in college basketball that just might make a run come March.
Filed to: Al-Farouq Aminu, Dino Gaudio, James Johnson, Jeff Teague, Wake Forest Demon Deacons