Know Thy Opponent: IUPUI Jaguars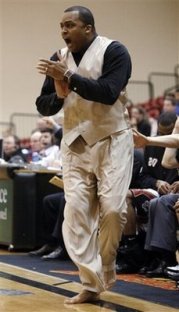 After losing George Hill as an early entry candidate to the NBA Draft, IUPUI is in rebuilding mode.
The Jaguars split their first two games in the 2K Sports Classic, falling 73-60 in the opener to Northeastern while beating Michigan Tech 65-51 in the consolation game. They're also one of the most inexperienced teams in the country. Sound familiar?
Ron Hunter's club, picked to finish fourth in the Summit League, will be without its lone senior and top returning scorer, 5-10 Gary Patterson (broken left hand). Patterson had surgery on October 30 and is expected to return by the end of the month.
Without Patterson, just three IUPUI players are upperclassmen. Through the first two games, freshman Alex Young is leading the way with 16.5 ppg and 5.0 rpg.
Beyond Young, Hunter will look to sophomore guard LeRoy Nobles, junior forward Robert Glenn and junior forward Jon Avery to help get through a season that will surely have its ups and downs.
"I think everyone expects us to fall off with George (Hill) being in the NBA," Hunter said at media day for the Summit League. "We think we've got a pretty good team here."
Filed to: IUPUI Jaguars, Ron Hunter