The Morning After: Your 2008-09 Indiana Hoosiers, I think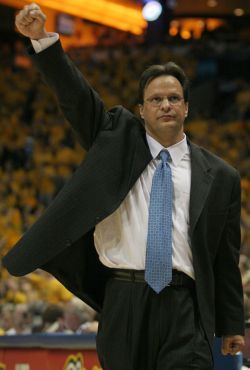 It goes without saying that the beginning of this Indiana basketball season is unlike those that have come before it. It is the second year in the last three that have seen IU with a brand new basketball coach, but even in Kelvin Sampson's first year at the helm we had some idea of what was going on. We knew about D.J. White and Rod Wilmont (how I miss Rod and his 30-foot three-pointers) and Earl Calloway and the rest. This year? Not so much.
I'll admit it: After about five minutes last night, I had to admit something to myself. I didn't know who was who. It's sad, I know, but I doubt that I'm alone here, and I hope it's not too bold of me to admit it. It took me a second to figure out that Verdell Jones was No. 12, that that wasn't Devan Dumes, that Dumes was the off-guard wearing No. 33, and who is that little dude with the Rip Hamilton facemask on? That's not Finkelmeier, is it? And oh my God is that Tijan Jobe?! It took me a second to figure it all out, and it required me whipping out the laptop and keeping the roster handy. I'm not afraid to admit it.
Because of that, a lot of stuff blurred together, but plenty stuck out, too. Off we go, then:
THINGS TO BE SLIGHTLY, CAUTIOUSLY OPTIMISTIC ABOUT:
Effort: This is going to be a theme all season, so let's just get it out of the way early. This team is going to be very likable. They are going to play hard. They are going to have good attitudes. All of that. Even when they're not playing with a good attitude it will seem that way, because you can't have worse attitudes than last year's team, and as long as Matt Roth doesn't smoke a crack pipe at midcourt and punch a cheerleader in the face, pretty much anything will seem like an improvement. So after every game, the chorus will be the same: These guys sure play hard! Man, they sure seem to care! Bless their little hearts, huh? This is going to get incredibly annoying. But last night? It was true. They did play hard. And they did seem to actually care. Credit where it's due, both to the team and to Tom Crean for getting them to buy in. The best basketball coaches are salesmen, and Tom Crean could sell me a ticket to Kelvin Sampson: The Broadway Musical. He's done the same sales job on his team. Effort will not be a problem this year, at least not anytime soon.
Devan Dumes: When I hear Northwestern State, I immediately think "last-second shot over Iowa in the NCAA Tournament," and then I get a big smile on my face. But after I think of that, I (perhaps wrongly) think of the stereotype of a mid-Major — scrappy, unathletic, hard-nosed, heavily reliant on three pointers. Northwestern State wasn't really like that at all. They were just sort of bad, especially on defense, where they were genuinely awful in the full court press. So I don't want to get too excited about Devan Dumes' night. But it is encouraging, at the very least, to know that the team contains some semblance of offensive talent that can score when allowed to do so. Dumes' night was like that — impressive, but not overly so. Just solid. But I'll take solid if it puts the occasional point on the board.
Verdell Jones: I might actually be more excited about Jones than I am about Dumes. For whatever reason, I really like Jones' game — he's lanky, deliberate, he sort of glides around. His arms are long enough to make him play bigger than his listed size. Having that kind of athletic ability at the point is a real luxury … even if Verdell has a lot of things to figure out about the position. On a team with minimal size, um, everywhere, Jones is a boost. (He also had kind of a crazy line last night: 18 points, five assists, three blocks, three steals, three turnovers, 10-13 from the free-throw line. That's like a mini-Josh Smith-on-the-Hawks line. I love it.)
Daniel Moore: It took about five minutes last night before the the friends I watched the game with were already calling him the second coming of Errek Suhr. Fortunately — and no disrespect to Suhr — but I think it's clear Moore is a much, much better player. I'm sure I missed something, but I don't know if I saw Moore make a truly bad decision all night. Despite his size deficit, he gets around people in the open floor. He can make open shots, and he's a great passer. So maybe he's not a point guard in the Big Ten, but you can do much, much worse coming off the bench than Moore. That's a great walk-on right there.
Tijan Jobe: Haha. Just kidding. Nothing to be optimistic about here.
THINGS THAT ARE BASICALLY AN UNMITIGATED DISASTER:
The Frontcourt: Speaking of Tijan Jobe, oh boy. The frontcourt. Where to start?
I don't want to be too harsh, because Kyle Taber seems like a pretty cool dude. Relaxed guy. The kind of kid you're hoping is your roommate when you move to school — plays video games, probably, not too rowdy, doesn't do hard drugs in plain sight. (Everyone knows that kid freshman year. He is to be avoided; he won't last the first semester.) So I think I like Kyle Taber as a person. But as a basketball player, as the captain of this team? Eesh.
Last year, Taber made a living off of one thing: playing opposite D.J. White. White would shoot it, and defenders would crash to him while Taber snuck in, grabbed a rebound, and either tipped it back in or passed to a guard and restarted the offense. He was perfect for that. But when Taber is the supposed to be your "best" big man, well, you're going to get killed on the interior all season. Just murdered. And it already started last night.
For example: Northwestern State had 27 — 27! — offensive rebounds. Eight Northwestern players had at least two offensive rebounds each. Northwestern State had eight blocks, which doesn't seem like that many, actually. I would have thought, oh, 30 or so? That's how it felt, anyway.
As for the non-Taber members of the frontcourt: Tom Pritchard is like Kyle Taber, except left-handed. He might actually be a bit more talented, thank God, but he's certainly not more athletic, or bigger; he just seems to know how to get the most of his limitations. And Tijan Jobe. Oh, Tijan. Tijan Tijan Tijan. God bless him. He looks incredibly interested in playing hard basketball, in rebounding, that sort of thing. That's probably the nicest thing that can be said about his basketball ability right now.
THINGS WE KNOW NOTHING ABOUT:
Pretty much everything else. But there's IUPUI Tuesday night, and so goes the season. Another game, another batch of info to learn. And then? The Road to the Final Four. We're going all the way! 1-0! WOOOO!
This could be a long season.
Filed to: Daniel Moore, Devan Dumes, Kyle Taber, Northwestern State, Tijan Jobe, Tom Crean, Tom Pritchard, Verdell Jones