Pat Knight misses you, Indiana, but won't speak for his dad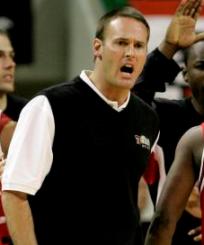 Eight years after departing in ugly fashion from Bloomington, the wounds and hard feelings are beginning to subside for Texas Tech coach Pat Knight.
Knight spoke candidly about a variety of IU related topics in an interview with JMV on 1260 AM in Indianapolis. Listen up, courtesy of Terry Hutchens over at the Hoosiers Insider:
JMV: What do you think about Tom Crean at IU?

PK: "I think he was a great hire. I admit when everything first went down you have some bad feelings when you get fired from a place and it takes some time to get over it. But that's happened so long ago now that I wish him nothing but the best. He knows that. I've talked to him and I've told him if there's anyone that I can call for him like past players who may not be buying into what he's doing that I'll vouch for him. I've known him for a long time and you know Tom Izzo has been a close family friend of ours for a long time and anybody that comes from coach Izzo's program is alright with me. I just hope people are patient because he inherited a brutal situation which a lot of guys wouldn't even have tried to leave a good situation like he had at Marquette to try and fix what's going on down there. But since he took it, you couldn't find a better guy. I think he's going to get it done and I hope he gets it done, I'll admit when we first got fired I didn't root for Indiana at all. It took several years. But now that Tom's there it's kind of nice to be able to root for my alma mater."

JMV: How might your father feel about that? Is he thinking similar toward what you might think about IU and what is the new basketball program there present day?

PK: "I've learned that I don't answer for him (he laughs). I'm not touching that question. I can only tell you how I feel about everything. I'm still in contact with a lot of the guys I played with. I talked to Brian Evans just two days ago. And Tom has had Brian come down there and he's going about it the right way. I'm looking forward to seeing him turn things around down there."
And later…
JMV: I'm sorry to keep you so long….

PK: No, no, I'm enjoying this. I like talking about it. I miss Indiana."

JMV: I had no idea you felt that way because actually in the past I've reached out and I've actually run into a stone wall a couple of times and I was kind of surprised when you said yes.

PK: No. Like I told you, early on, it's like anything else. You have hard feelings and then you kind of get older and you realize life's a little too short to keep grudges. You won't have any problems from here. Just let me know when you want to hang out and shoot the breeze I'll be more than happy to do it."

JMV: We'd love to have you back on the show any time, and maybe one of these Texas Tech can play IU at Assembly Hall and vice versa down in Lubbock?

PK: "Yeah, you know, Matt Painter and I have actually talked about doing a home and home deal. And I haven't had a chance to talk to Tom yet but it would be a situation where it wouldn't be bad to get back into the Midwest."
Reading this gives me hope that one day Coach Knight will return to Assembly Hall wearing a red sweater and address the Hoosier faithful one last time. For all of the knucklehead behavior that he's displayed, you know there is a soft spot somewhere deep down for Knight that wants to bury the hatchet. Whether or not it happens is anyone's guess, but these comments from Pat are a step in the right direction.
Filed to: Bob Knight, Pat Knight