The man is back: Kyle Taber returning tonight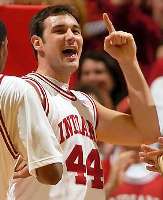 Rejoice, Hoosier fans: Our captain is back. Kyle Taber, he of 34 career points, will return for tonight's exhibition against Bemidji State. The details, from our friend Chris Korman:
In what constitutes a major news story with IU basketball (the times are a changing), senior forward Kyle Taber is expected to make his return to the court tonight for the Hoosiers' exhibition game with Bemidji State.
You're right, Chris. Times are a changing. Last year at this time, we were booking our tickets for the Sweet 16. Now we're celebrating the return of Kyle Taber. Did I mention it could be a long year?
Also, in case you missed it, Bob Knight is returning to ESPN. Good times.
Filed to: Bob Knight, Kyle Taber