Eric Gordon + minutes = Clippers win!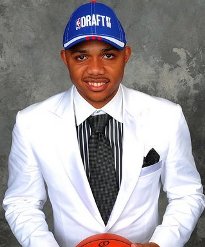 After seeing a combined 44 minutes in his first six games as a Clipper, Eric Gordon finally got some clock on Sunday. The result: 11 points in 30 minutes as the Clippers won their first game, 103-92, over the Dallas Mavericks.
Gordon seemed a bit frustrated with his lack of playing time when speaking to reporters after practice last Thursday.
Apparently coach Mike Dunleavy saw something that convinced him Gordon was ready for the rotation or he realized the Clips are going nowhere fast and it was time to spread the minutes around. I'm guessing the latter.
If I'm the destined-for-the lottery Clippers, there's no sense in keeping Gordon buried on the bench in favor of the aging Cuttino Mobley or Ricky Davis. Let's hope logic prevails and the minutes for the man in that beautiful suit continue to increase.
Filed to: Eric Gordon