All-Big Ten Preview: Robbie Hummel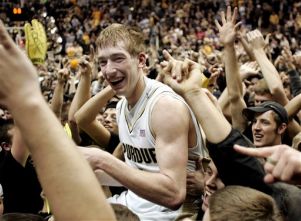 The All-Big Ten preview is ITH's look at our picks for the top players in the Big Ten this season. Today: Robbie Hummel of Purdue.
In one year under Matt Painter at Purdue, Robbie Hummel has done everything one could have expected, and more: He's made First Team All-Big Ten as a freshman; he made the list of finalists for both the John Wooden and Oscar Roberston national awards; he started 31 times and averaged 11 points, six rebounds, and two assists a game. For all intents and purposes, Robbie Hummel was The Man last year.
As impressive as Hummel's accomplishments were how quietly he went about them. I'll be honest: Purdue is in the same state as our Hoosiers, and not only was I only vaguely aware of Hummel, I was often viscerally bored by him. I say that less to insult him and more to criticize my own basketball intelligence, but it's true: Watching Robbie Hummel is never interesting the way, say, watching Eric Gordon, or even a roughshod banger like Tyler Hansbrough, is. But if Hummel can expand on his success — he was named Big Ten preseason player of the year this year — I doubt he, or Painter, or Purdue fans will much care.
Filed to: Matt Painter, Purdue Boilermakers, Robbie Hummel