Eric Gordon makes Bill Simmons weak in the knees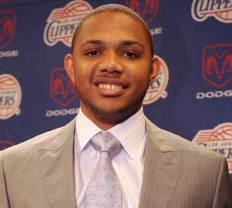 Bill Simmons, the "Sports Guy" over at the World Wide Leader and Clippers season ticket holder, offered his prognostications for the NBA season in a column earlier today.
And right there, smack dab in the middle of it, was some major Eric Gordon love:
Eric Gordon's beautiful, moonball, knee-weakening, once-in-a-generation jump shot. It's just perfect. I love it. I love everything about it. Every time he shoots it, the Clippers crowd goes quiet for a split-second like one of the cheerleaders just pulled up her shirt. Even the spin is gorgeous. I can't say enough about it. I am in love with Eric Gordon's jump shot. I want to marry it. I want to have kids with it. I will go to at least one practice or shootaround this year just to see him hoist 200 of them.

And by the way, the kid is going to be great — he's bigger than I thought, and when he drives to the lane, defenders just bounce off him. He will end up being the third best guy in that draft. Unless, of course — and I'm contractually obligated to mention this since it's the most jinxed franchise in sports and we're only two years removed from Shaun Livingston's knee flying off his body and landing in the eighth row — something horrible happens to him. Please, Lord, no. Just give us a decade of Gordon jump shots. I don't ask for much.
We know the feeling, Bill.
{HT: Basketblog}
Filed to: Bill Simmons, Eric Gordon