All-Big Ten preview: Manny Harris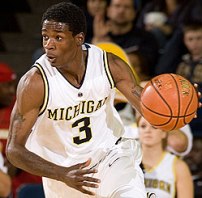 The All-Big Ten preview is ITH's look at our picks for the top players in the Big Ten this season. Today: Manny Harris of Michigan.
If second year coach John Beilein hopes to improve on his debut season in Ann Arbor, much of his success will be a direct result of the maturation process of sophomore guard Manny Harris.
The Detroit native averaged 16.1 points last season and was a second team All-Big Ten selection for a Wolverine club that managed just ten wins. If Michigan hopes to reverse the trend, they'll need leadership out of their go-to-guy.
"The biggest thing that I slacked on last year that I can do better this year is being a vocal leader, making sure that I get through to the team with what we need to do," Harris said at Michigan's media day. "How I'm going to do that is by working hard myself everyday and in every practice so that it will be easier for them to listen to me."
With the offensive freedom afforded by Beilein to his back court players, Harris should have no problem building on last year's scoring totals. If he can cut down the turnovers (3.6 per game) and improve on his three-point shooting (31 percent), he'll find himself on the All-Big Ten team.
Filed to: John Beilein, Manny Harris, Michigan Wolverines