Capobianco calls Hysteria "a blast", looks forward to future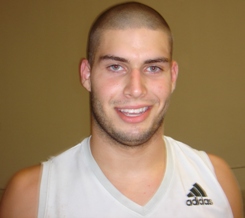 Four members of Indiana's 2009 class took in Hoosier Hysteria on Friday night and the first to join that class, Bobby Capobianco, came away impressed.
"I had a blast. I thought it was a really, really fun time," the 6-9 forward from Loveland, Ohio told Inside the Hall. "I sat down with Christian, Jordy and Derek. Everybody knows it's going to be a tough year, but everybody is there to support."
Capobianco, who suffered a broken bone in his left foot three weeks ago, is looking forward to returning to action in the near future.
"I've got two more weeks and then I'm back. It was a real simple procedure," he said. "I broke a really small bone. They put two screws in and I haven't had any pain at all. As soon as the cast is off, I'll be able to run."
The 2009 class, ranked No. 4 nationally by Rivals.com, is expected to push IU right back into NCAA Tournament discussion. The class offers a little bit of everything at each position.
"I think the 2009 class has some positions that we really fill. Christian is a slasher. He's got so many things he can do," Capobianco said. "Derek and I will be able to fill in at the 4. Hulls can deliver the ball and facilitate. Creek has so many things he does out on the wing. I think our freshman class will have a big impact."
Filed to: Bobby Capobianco