Gordon impressive for Clippers in preseason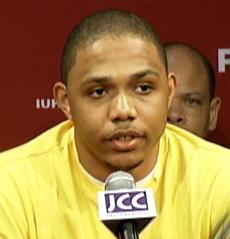 After a 33-point performance last week against the Sacramento Kings, Eric Gordon was back at it again Sunday as the Los Angeles Clippers beat Real FC Barcelona 114-109.
Eric Gordon, it seems, can get hot. Blistering hot. And has a propensity to get hot in the fourth quarter, with the game on the line. For the second time in three contests, Gordon erupted in the final period to help the Clippers win a game.

Gordon scored 12 of his 17 points in the fourth quarter as the Clippers held off Regal FC Barcelona 114-109 in the first game Sunday of the Staples Center Shootout.

"He's a guy that can catch fire. He can make shots, he's good off the dribble, he can make plays, that's pretty much going to be his role," Clippers coach Mike Dunleavy said. "We thought that's what he could do, so he's really not surprising us, but it's still good to see."
With Baron Davis on the shelf for approximately 4-6 weeks to kick off the season, our boy EJ is going to get plenty of run for a Clippers team that will likely land right back in the lottery. If he can cut down on the turnovers and improve his handle, he's going to be a star boys and girls.
Filed to: