Big Blue Nation is none too pleased with Jeff Goodman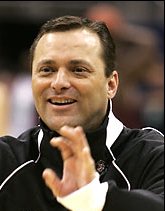 Ah, Kentucky fans. Annoying and hard-headed as they are, no one can deny their passion for their program. After Billy Gillispie secured a commitment from Daniel Orton this past weekend, Fox Sports writer Jeff Goodman raised questions about the university's dealings with Orton's father, Larry:
But because it certainly didn't hurt that Kentucky coach Billy Gillispie paid Orton's father, Larry, to speak at camps in Lexington on three separate occasions this past summer. Let's be clear. This isn't against the rules. It's just Gillispie being Gillispie.

Remember, he was basically the guy that came under fire for being one of four coaches to hold Midnight Madness a week before the "official" start of practice.

Creative? Absolutely. On the verge of being unethical? It depends who you ask. Larry Orton admitted he was also paid to speak at Kansas and Oklahoma State, but he only picked up one paycheck from each of those schools.

C'mon. He may be articulate, knowledgeable and could even rival Bill Clinton in terms of his ability to captivate a crowd, but that's not why he was there. He was there because he is Daniel Orton's father.
And now, some of the articulate responses from UK fans:
Goodman you are a ####!!!!!

Goodman-you suck!!!you have always sucked and you have always had this dislike for the Blue. Don't worry EVERYONE in Kentucky hates you too!!! Seriously dude, go find a new job…

Goodman is the biggest #### bag i've ever read. Get over your anti-Gillespie self. What'd he do, steal your girl??

Goodman is just mad he couldn't be Rocky when he looks just like sylvester stallone..well, a goofy lookin sylvester stallone! Get off the Wildcats back.
All comedy aside, the bigger picture here is the huge loophole that the NCAA needs to close off as soon as possible. This isn't happening only at Kentucky — it's happening everywhere and it just doesn't seem right. Anyway you slice it, paying the father of a recruit to speak at a summer camp is indirectly paying for a player, right?
Filed to: Big Blue Nation, Jeff Goodman