Kelvin Sampson + rogue cell phone use = IU hemorrhaging money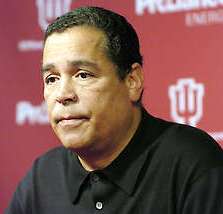 Not that you don't already despise Kelvin Sampson enough (at this point, what IU fan doesn't?), but the legal bills are starting to roll in from Ice Miller and a tuition hike is on the horizon if things keep up at this pace.
The diligent Chris Korman of the H-T/Hoosier Scoop has the details:
Indiana has been charged $249,806.39 by the Indianapolis law firm Ice Miller for its work on investigating violations committed by the men's basketball program and assisting the university in its dealings with the NCAA regarding the matter.

But that tab — calculated using billing records obtained Thursday by The Herald-Times through a public records request — covers only charges accumulated between the months of July 2007, when the investigation started, and March 2008.
It's anyone's guess where this tab will end up when it's all said and done, but IU is already well over a million if you include Sampson's buyout. Anyone got a guess on a final number that this fiasco will end up costing the school we love? If the over/under is $2 million, I'm taking the over.
Filed to: Kelvin Sampson