Is Christian Watford ready to commit?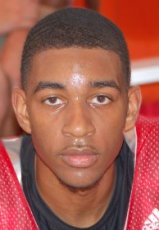 Editor's Note: There was some confusion on the timing of Crean's visit with Watford. According to Chris Korman of the H-T/Hoosier Scoop, Crean will visit with Watford on Tuesday, not Monday.
The already stellar 2009 recruiting class for Tom Crean might be getting stronger.
According to Chris Korman of the H-T/Hoosier Scoop, Crean made the trip to Alabama on Tuesday to watch Christian Watford workout and then visit with the player and his family. Prior to the visit, Watford's dad Ernest gave some major props to the Indiana program:
Ernest was there at Indiana's elite camp in late August to hear the Hoosiers' coaching staff gush about how much his son, a smooth 6-foot-7 wing, would bring to the program. He had the chance to talk to Isiah Thomas and D.J. White "at length about all things Indiana basketball."

Yet Ernest was not convinced that Indiana and its new coach would be right for his son.

So he called around.

"I won't say who," he said on Monday. "Just people who knew coach Crean before he was at Indiana. Parents who dealt with him, some other coaches. People who'd know."

And?

"Nothing but positive," he said. "He's a man of integrity and honor. And he's going to have faith in Christian's ability. He's going to let him play, he's going to give him room."
With his father's comments about the program and the fact that a visit is taking place today, did a message left by Watford on his Facebook page late Monday reveal a clue that a decision could be coming soon?
WORLD…STAY TUNED 4 TOMORROW!!!!!!
Unless Watford just loves him some CAPS LOCK, I'm taking this as a sign that things are looking good for Indiana. Watford has been a top priority for Crean for quite sometime and it wouldn't come as a surprise if the Hoosiers lock him up.
Filed to: Christian Watford