Potential new twist in Van Treese recruitment?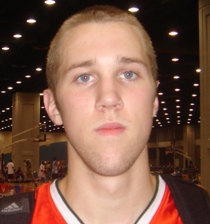 There is potentially a new twist in the recruitment of Lawrence North forward Stephan Van Treese — the possibility that he will join Indiana next season as a walk-on. It seems the rumor originated with John Decker over at Hoosier Nation and then trickled onto the discussion forums where it's become a hot topic.
Van Treese's stock has taken a tumble nationally and he's no longer listed in the Rivals 150 for the 2009 class. While he was impressive at the Kentucky Hoop Fest in July, the major concern seems to be his ability to score in the post against top notch talent.
The five schools he was considering at the start of the summer — UCLA, Kansas, Ohio State, Louisville and IU — have all backed off considerably. That leaves Van Treese with one offer from a high major school in South Bend — Notre Dame.
Whether or not this walk-on rumor is a real possibility remains to be seen, but the likelihood of a scholarship offer being extended from the coaching staff is basically non-existent. The focus for the 2009 class has shifted primarily to Dominic Cheek, Christian Watford, Roger Franklin and others. The interest from Van Treese in the IU program is still there — his brother is currently a student in Bloomington, his best friend is Bobby Capobianco and he's been an IU fan for most of his life. Will that translate into a willingness to accept a walk-on spot to play for the program he loves?
Filed to: Stephan Van Treese